Bitcoin (BTC) price surges above $13,000 for the first time in over two years following positive news on the leading crypto over the week.
BTC was the first cryptocurrency to successfully record transactions on a secure, decentralized blockchain-based platform. BTC reached above $13,000 in January 2018, six weeks after it reached an all-time high of over $19,000.
Recently, BTC got attention from many publicly-traded companies like Microstrategy and Square, stating Bitcoin as a reserve asset. At the time of writing, BTC price is at $12,976 with a 24-hour trading volume of 19 billion, according to Coingecko.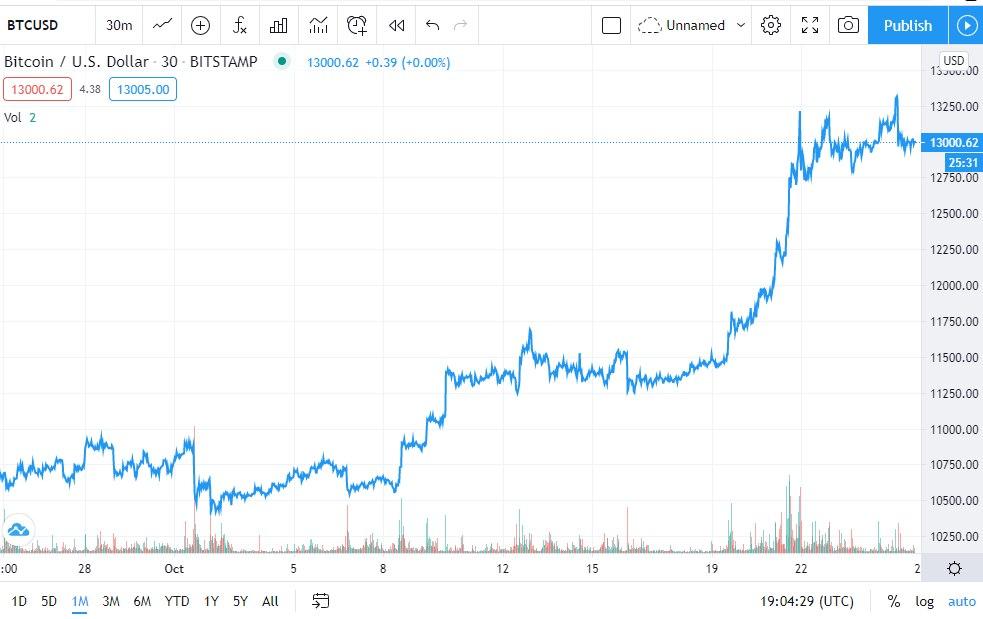 Bitcoin Price Chart 1-Month (Source: TradingView)
Moreover, PayPal's announcement on the launch of a new service enabled its customers to buy, hold, and sell digital currency with its 26 million merchants worldwide. This announcement also triggered the surge of BTC's price.
In a July report, Bloomberg Intelligence set $13,000 as a breakout price target for bitcoin.  Called the leading digital currency ad a caged bull. Bitcoin has gained 82 percent, year to date. 
Bitcoin was also seen to be competitive against other cryptocurrencies such as the S&P 500 and gold. Today, the S&P 500 is traded at $3,465, while gold currently amounts to $1,733. Moreover, BTC is globally considered the sixth most valuable currency, with a higher value than all UK Pound Sterling notes and coins in circulation. 
Despite the global COVID-19 pandemic, BTC has managed to withstand all the crypto market trials and volatility. Particularly in countries like Japan and Turkey as well as the leading companies.
Recommended for You